Your transformation plan needs to be embodied
Infuse your transformation among the teams thanks to a space dedicated to acculturation, sharing and collective intelligence
I have a transformation plan
"If you want to get people to cross a river, first make them dream about the beauty of the other side and then make sure that no one is afraid of the water, teach them to swim and then they will cross by themselves.

Kawakita's principle
With Beeshake, your employees understand and embody your transformation plan
Disseminate acculturation content through the MOOC
Ask for feedback through polls and surveys
Structure your transformation around collective intelligence rituals such as Codev sessions or Brown Bag Lunches
Use gamification to identify and value transformation ambassadors
Organise focus groups around the pillars of your transformation
Encourage your staff to come up with ideas to bring your transformation plan to life

Microsoft 365 alone allows only one partial animation
of your transformation plan


Facilitating your transformation plan and ensuring the sustainability of your new culture requires a dedicated platform, as traditional collaborative tools are not exactly designed for this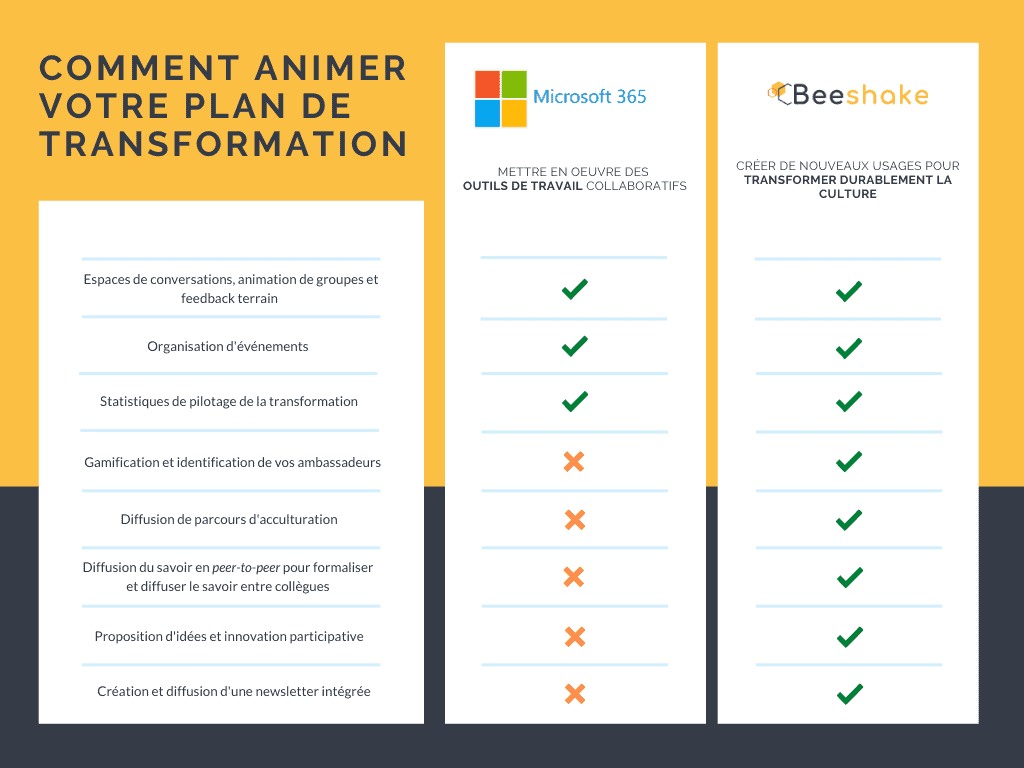 Beeshake supports the transformation plan of Mobivia, SNCF Réseau and Metro
Accessible from any device, Beeshake embodies the transformation and allows all employees to take ownership of its challenges. Beeshake values individuals and gives coherence to the proliferation of transformation projects.

The transformation gradually infuses, to become totally collaborative:

- "Top-down": sharing of acculturation and engagement content, key information, and organisation of federative events (barcamps, Brown Bag Lunches, etc.)

- Bottom-up: employees ask questions, express their needs and give feedback.

- Collaborative: employees share their successes, disseminate their ideas, innovation projects and best practices, they co-construct events and propose ideas to make the transformation happen on a daily basis.
Like the Mobivia group or SNCF Réseau, you want to succeed in your transformation?
Beeshake is a simple and intuitive platform to embody your transformation and make it easier for your employees to join and participate.
Fill in the form on the right to see an example of a platform designed to support a transformation plan.